Resources for Producers: HUSSLUP
September 15, 2021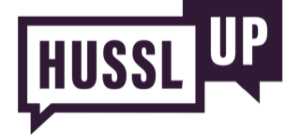 Join HUSSLUP to manifest your own professional destiny through detailed searchable profiles and dynamic community building.
Tired of the old boys' network in Hollywood? We are too! So now you can HUSSLUP! HUSSLUP connects you to the best people, biggest opportunities, and coolest jobs in the biz. Tired of everyone on set looking the same? HUSSLUP helps producers, writers, directors, and execs discover all kinds of diverse talent for your next project. Can't change your own name or credits on other databases? At HUSSLUP, you can create a professional profile with a bio, creative samples, credits and professional vouches. And you can create a company page too! Exhausted by the analog grind? That's why we are building a network of amazing creative talent that can be searched by the world's biggest entertainment companies. Yes, we are working with major studios, top production companies, cool gaming shops, and more. But really we are working for YOU. 
HUSSLUP is excited to invite active PGA members to join our invite-only free beta, which is launching in late October. After you join, you will receive 5 invites for your most talented colleagues. Space in the beta is very limited as we continue to build and test the product. So HUSSLUP to reserve your spot now to become a Founding Member of the new creator-centric network that is transforming Hollywood's old clique with one click! 
Join our invite waitlist at www.husslup.com or email admin@husslup.com and let us know you are a PGA member.