São Paulo Film Attraction Program
November 17, 2022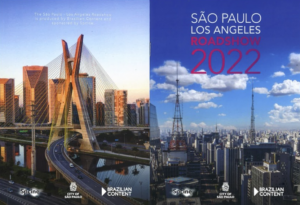 Looking to film in Brazil?
PGA members were recently invited to meet with the producers and companies traveling to the AFM as part of the 2022 São Paulo Los Angeles Roadshow.
The São Paulo Film Attraction Program initiative is sponsored by Spcine, the City of São Paulo audiovisual company, which is currently offering a cash rebate of 20% to 30% for shooting in São Paulo City. Brazil has a wide range of tax incentive benefits for film and TV productions and a highly competitive market for production services.
If you are shooting in São Paulo or anywhere in Brazil, here are some resources and contacts provided during their meet and greet with PGA members: international@spcine.com.br and www.spcine.com.br
Reminder: PGA members, especially those working on independent productions, have an opportunity to take advantage of Corpay's cross-border payments and currency risk management solutions. For info - https://producersguild.org/globalpayments/